Turkey Golden Visa
Turkey Golden Visa is a direct Citizenship-by-Investment program, that provides an enticing pathway for high-net-worth individuals and families to become Turkish citizens by making qualifying investments in the country. Compared to similar citizenship by investment programs worldwide, Turkey has set relatively lower thresholds, making it accessible to a broader range of investors. For example, individuals can obtain Turkish citizenship by investing in real estate with a minimum investment amount of $400,000. Additionally, there are no minimum stay requirements or language requirements to obtain citizenship.
Turkish citizenship opens doors to the US via the E2 visa, potentially the UK via the Turkish Businessperson Visa or the Turkish worker visa, and increased mobility through visa-free or visa-on-arrival travel to several countries across the world.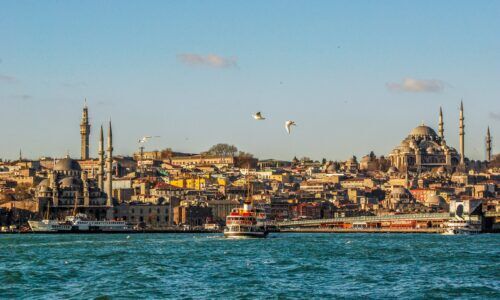 Overview
With its strategic location bridging Europe and Asia, a thriving economy, and a rich cultural heritage, Turkey has become an attractive destination for investors seeking a second citizenship. The Golden Visa program not only enhances global mobility but also grants access to a diverse and vibrant market, tax advantages, quality healthcare, and excellent education systems.
Turkey operates under a parliamentary system with a democratic framework. The country's political system is characterized by a multi-party structure, where political parties compete in regular elections to form the government. The President, elected by popular vote, holds the highest executive authority.
In terms of international relations, Turkey occupies a strategic geopolitical position. It is a key member of NATO, hosting the Allied Land Command headquarters and brings the second largest army to the alliance.
Turkey has pursued closer economic and political ties with various nations, including the European Union, the United States, and countries in the Middle East and Africa. It has sought to diversify its partnerships and enhance trade relations through initiatives such as the Customs Union with the European Union and participation in regional organizations like the Organization of Islamic Cooperation and the Economic Cooperation Organization.
Turkey Golden Visa Investments
Turkey offers the following pathways to third country nationals to obtain citizenship by investment.
Turkey Citizenship by investment in Real Estate: To qualify for citizenship of Turkey, investors must make a minimum investment of USD 400,000 in real estate property. This investment can be in a single property or can be split across multiple properties provided underlying conditions are met. The property must not be sold for a minimum of 3 years.
Being the most affordable option, this is the most preferred route for investors as it allows investors to earn generous annual yields plus capital appreciation in a robust market.
Turkey Citizenship by Bank Deposit: Turkish citizenship can be acquired by depositing a minimum of USD 500,000 or foreign currency equivalent in Turkish Lira with banks operating in Turkey. The deposit is required to be held with the banks for at least 3 years and a Certificate of Conformity must be obtained from the Banking Regulator and Supervision Agency of Turkey.
Investment in Turkish Government Bonds: Investors are also able to apply for Turkish citizenship by making a minimum investment of USD 500,000 or foreign currency equivalent in Turkish Government Bonds. This investment must be held for a minimum of 3 years.
Job Creation: To qualify for Turkish citizenship under the job creation route, it is necessary for the investor to create at least 50 full time job positions for the local workforce.
Investment of USD 500,000 in a real estate investment fund or venture capital investment fund with a lock-in of 3 years.
Benefits of Turkey Golden Visa – Turkey citizenship by investment
Return on Investment: Turkey Golden Visa provides pathway to obtaining Turkish citizenship by making qualifying investments that have a potential to deliver solid financial returns alongside a coveted passport.
Minimal requirements: Compared to other European countries, there is no minimum residency requirement or language requirement to apply for Turkish citizenship.
Fast processing: It is possible to complete the entire citizenship process in 6 months, much faster than other comparable countries such as Portugal.
Inclusion of family members: Citizenship application can include spouse and dependent children of the investor, without any additional investment.
Favorable tax regime: Turkey does not impose taxes on income derived from outside the country.
Benefits of Turkish Citizenship
Access to a diverse market and business opportunities: Turkey's strategic location, and investment-friendly policies open doors to a dynamic market, enabling investors to tap into lucrative business prospects. As per World Bank estimates, Turkey generated a nominal GDP of USD 1bn in 2022, which translates into a GDP per capita of $10,600.
Quality healthcare and education system: Turkey boasts excellent healthcare facilities and a well-developed education system, ensuring a high standard of living for citizens and their families. All Turkish citizens are entitled to free public healthcare. Primary and secondary education is free of charge in public schools.
Cultural and lifestyle benefits: From the pristine beaches of the Mediterranean and Aegean coasts to the rugged mountain ranges of the Taurus and Pontic Mountains, Turkey offers diverse and breathtaking landscapes. Coastal areas of the country are characterized by a pleasant climate with warm summers and mild winters.
Access to US: As a country with E2 treaty with the US, Turkish passport holders can live and work in the US, along with their families on the E2 visa. The investor is required to start or invest in an existing business in the US to apply for the E2 visa.
Visa-free travel and global mobility: Holders of Turkish passport enjoy visa-free or visa-on-arrival access to 100+ countries worldwide, expanding their horizons for business, leisure, and exploration.
Dual Citizenship: Turkey allows dual citizenship, which means that investors can maintain their nationality of origin in addition to acquiring the Turkish citizenship.
Step-by-Step Process of Obtaining Turkish Citizenship by Investment:
Embarking on the path to Turkish citizenship requires a systematic approach. Here is a step-by-step guide to navigate the process smoothly:
Understanding the program requirements: Familiarize yourself with the eligibility criteria, investment options, and documentation required for the program.
Selecting the right investment option: Choose from the available investment avenues, such as real estate, bank deposit, or job creation, to determine the most suitable route based on your goals and preferences.
Document preparation and application submission: Compile the necessary documents, such as passport copies, investment proofs, and background checks, and submit a complete application to the relevant authorities.
Review and approval process: Await the evaluation of your application by the authorities, who will assess your eligibility and verify the provided information.
Oath of allegiance and finalizing citizenship: Once your application is approved, complete the final formalities, including taking the oath of allegiance, to officially become a Turkish citizen.
We, at My Golden Pass, are ready to provide you with professional guidance and support at every step of the way. Book a consultation today!