Dominica Golden Visa
Dominica Golden Visa program allows foreign nationals to obtain citizenship in Dominica by making a significant investment in the country's economy. The program was established in 1993 and offers several benefits to investors, including visa-free travel, tax advantages, and business opportunities. To be eligible, applicants must meet certain requirements and choose an investment option, such as investing in real estate or contributing to the government fund.
Investment amount begins from USD 100,000. Additional processing and diligence fees apply as specified by the Government of Dominica.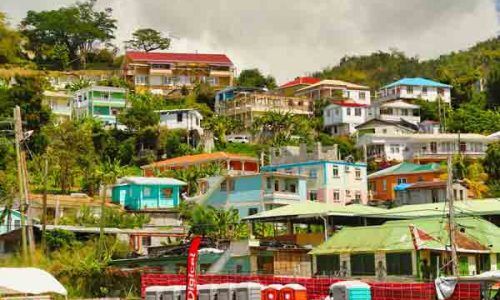 Overview
Dominica is a tropical island nation located in the Eastern Caribbean Sea. Known as the "Nature Island," Dominica is home to lush rainforests, towering volcanoes, and natural hot springs. It is a member of various international organizations, such as the United Nations, Commonwealth of Nations, and the Organization of Eastern Caribbean States.
Dominica operates under a parliamentary system of democracy with a president as head of state and a prime minister as head of government. The legal system is based on English common law and overseen by a judiciary consisting of magistrates' courts, the High Court, and the Eastern Caribbean Supreme Court.
Despite its small size, Dominica boasts a relatively high standard of living, thanks to its diverse economy. While agriculture remains the primary industry, the government has made significant efforts to expand into tourism and offshore financial services. Overall, Dominica offers a unique and appealing lifestyle for those seeking adventure and a tropical paradise.
Investment options
Investors can choose from the following options
Donation: Contribution to the Economic Development Fund (EDF) of up to USD 100,000 for single investor, plus additional USD 50,000 donation to include spouse of the main applicant. An additional donation of USD 25,000 to include any dependant (such as dependant children or parent) other than spouse.
Family of four including the main applicant, the spouse of the main applicant, and two other dependants: USD 175,000
Real Estate: Investors can invest a minimum of USD 200,000 in government authorized real estate projects. This investment must be held for a minimum of 3 years from the date the citizenship is granted. If the investment is held for 5 years, then the future purchaser will also become eligible for citizenship-by-investment. It is possible to get a rental yield on some of the projects as well as buyback option, where the developer offers a pre-defined return and exit strategy at the end of 3 / 5 years.
Requirements of the Dominica Golden Visa Program
Hold a valid passport
Provide KYC documents and proof of funds.
No criminal records or police clearance certificate for all adult applicants
Medical certificate
Dominica Golden Visa Benefits
One of the lowest cost programs with a quick processing time
Right to live, work and study in Dominica.
Visa free travel to approximately 140 countries, including the UK, Hong Kong, Singapore and the Schengen area.
Minimal taxation, with no wealth tax, gift, inheritance, or capital gains tax
No tax on worldwide income
Dual citizenship permitted
No language test or residency requirement
Inclusion of dependent children up to the age of 30 and parent/ grandparents over 55 years.
Application Process
The application process for Dominica Golden Visa involves the following steps:
Choose an approved agent, such as My Golden Pass, to assist with the application process. We conduct pre-application background checks, which helps reduce your chances of rejection.
Submit an application form, along with supporting documents, to the Citizenship by Investment Unit (CIU).
Pay the non-refundable application processing and due diligence fees.
Wait for the CIU to review the application and conduct a due diligence background check.
If the application is approved, the investor must make their investment in real estate or the government fund.
After the investment is made, the CIU will issue a certificate of naturalization and a passport.
FAQs
Here are some commonly asked questions about Dominica Golden Visa
What is Dominica Golden Visa?
Dominica Golden Visa is a citizenship-by-investment program that allows investors to directly obtain Dominica's passport upon making a qualifying investment and providing supporting documents. There is no minimum residency requirements to obtain citizenship of Dominica.
Who is eligible to apply for Dominica Golden Visa?
The program is open to all investors who are more than 18 years old and can make the required investment as well as pass the background check. Restrictions apply for nationals of Iran, Russia, Belarus, Sudan, Syria and North Korea.
Can Dominica citizenship acquired through investment be revoked?
Citizenship can be revoked if the investor is found to have provided false information or engaged in criminal activities. We strongly recommend to disclose all material facts prior to submitting your application.
Is dual citizenship allowed in Dominica?
Yes, Dominica allows for dual citizenship. Investors do not need to renounce their current citizenship, as long as their current citizenship too permits dual citizenship.
Can family members be included in the application?
Yes, the investor's spouse, children, and parents can be included in the application for an additional fee.