Grenada Golden Visa
Grenada Golden Visa is a citizenship by investment program that allows investors to acquire Grenada passport within 4 to 5 months. Grenada launched its golden visa program in 2013. There is no requirement to travel to Grenada. during the application process, nor is there any minimum stay requirement upon obtaining citizenship.
Grenada golden visa starts with an investment of USD 150,000 onwards, slightly higher compared to other Caribbean nations. Grenada has an E2 treaty with the US, which allows Grenada passport holders to obtain an investor visa to reside in the US.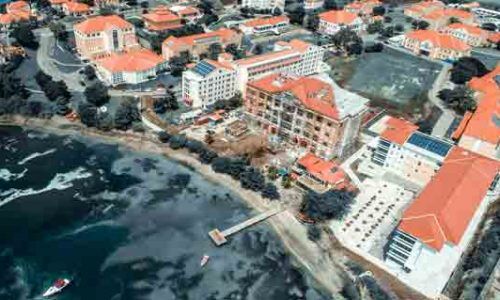 Overview
Located in the heart of the Caribbean Sea, Grenada is an island nation that seamlessly blends natural beauty with cultural charm. With its idyllic location, the island enjoys a tropical climate, with warm temperatures year-round and refreshing sea breezes.
Grenada boasts a diverse economy driven by agriculture, tourism, and offshore financial services. Renowned for its production of spices like nutmeg, cinnamon, and cloves, the island's agricultural sector plays a significant role in its economy. Additionally, the thriving tourism industry draws visitors with its pristine beaches, lush rainforests, and vibrant marine life.
Political stability is a cornerstone of Grenada's governance. The country operates under a democratic parliamentary system, whose political and legal traditions closely follow the UK. Grenada is a member of the United Nations, the Caribbean Community (CARICOM), and the Organization of Eastern Caribbean States (OECS), among others.
Investment options
Investors can choose from the following options
Donation: Contribution to the National Transformation Fund (NTF) of up to USD 150,000 for single investor, plus additional USD 50,000 donation to include spouse of the main applicant.
Family of four including the main applicant, the spouse of the main applicant, and two other dependants: USD 200,000
Real Estate: Investors can invest a minimum of USD 220,000 in government authorized real estate projects. This investment must be held for a minimum of 5 years from the date the citizenship is granted. Future purchaser of the underlying investment can also become eligible for citizenship-by-investment. It is possible to get a rental yield on some of the projects as well as buyback option, where the developer offers a pre-defined return and exit strategy at the end of 5 years.
Requirements of the Grenada Golden Visa Program
Hold a valid passport
Provide KYC documents and proof of funds.
No criminal records or police clearance certificate for all adult applicants
Medical certificate
Benefits of Grenada Golden Visa
Fast processing time.
Right to live, work and study in Grenada.
Visa free travel to approximately 140 countries, including the UK, China, Hong Kong, Singapore and the Schengen area. The only Caribbean citizenship-by-investment program that allows visa free travel to China.
E-2 treaty between US and Grenada allows citizens of Grenada to operate a commercial enterprise in the US and reside in US
No tax on worldwide income or capital gains tax or inheritance tax
Non-residents charged 15% tax on income generated in Grenada
Dual citizenship permitted
No language test or residency requirement
Inclusion of dependent children up to the age of 30 and parent/ grandparents over 55 years.
Application Process
The application process for Grenada Golden Visa involves the following steps:
Choose an approved agent, such as My Golden Pass, to assist with the application process. We conduct pre-application background checks, which helps reduce your chances of rejection.
Pre-application preparations: Gather all necessary documentation, including passports, birth certificates, marriage certificates, and proof of funds.
Document gathering and submission: Complete application forms and compile supporting documents. Submit your application to the Grenada Citizenship by Investment Unit (CIU).
Background checks and due diligence: Undergo comprehensive background checks to meet the program's integrity standards.
Approval and investment transfer: Upon successful due diligence clearance, transfer the investment funds to the designated account.
Certificate of registration and citizenship: Receive the Certificate of Registration and Grenadian citizenship, granting you the rights and privileges as a citizen.
Grenada Golden Visa FAQs
What is the Grenada Golden Visa program?
The Grenada Golden Visa program is a citizenship-by-investment initiative that allows individuals and their families to obtain Grenadian citizenship in exchange for a qualifying investment in the country.
What are the investment options for the Grenada Golden Visa?
The two main investment options for the Grenada Golden Visa program are contributing a minimum of $150,000 to the National Transformation Fund or purchasing a qualifying property valued at a minimum of $350,000.
What are the benefits of obtaining Grenadian citizenship through the Golden Visa program?
Grenadian citizenship offers visa-free travel to over 140 countries, including the UK, Schengen Area, and China. Additionally, it provides access to a Caribbean lifestyle, favorable tax environment, economic prospects, and the ability to include family members in the application.
Can I maintain my original citizenship while obtaining Grenadian citizenship?
Yes, Grenada allows for dual citizenship, so you can retain your original citizenship while becoming a citizen of Grenada through the Golden Visa program. This provides the advantages of holding multiple passports and the freedom to travel and do business in different countries.
How long does the Grenada Golden Visa application process take?
On average, the application process for the Grenada Golden Visa program takes approximately 4 to 5 months. However, the processing time can vary depending on factors such as application volume and complexity.