St Lucia Golden Visa
St Lucia Golden Visa is a low cost citizenship-by-investment program, which starts with an investment of USD 100,000.
St Lucia launched its Golden Visa program in 2015. The program is suitable for individual applicants as well as for large families.
There is no requirement to travel to St Lucia during the application process, nor is there any minimum stay requirement upon obtaining a citizenship.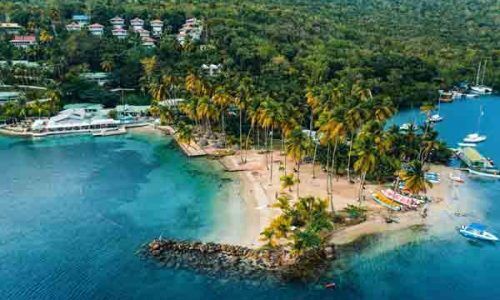 Overview
Nestled in the eastern Caribbean Sea, St Lucia is a beautiful island nation that forms part of the Lesser Antilles. St Lucia is known for its stunning landscapes, including volcanic peaks, pristine beaches, and lush rainforests.
St Lucia is a parliamentary democracy, based on the British Westminster model. The Prime Minister serves as the Head of Government, leading the executive branch. Parliament consists of a House of Assembly and a Senate, ensuring a system of checks and balances.
St Lucia has a diverse and growing economy, driven by sectors such as tourism, agriculture, manufacturing, and services. The island's tourism industry, attracted by its natural beauty and cultural heritage, is a significant contributor to the economy. St Lucia is renowned for its luxury resorts, attracting visitors seeking pristine beaches, water sports, and eco-tourism experiences.
Investment options
Investors can choose from the following options
Donation: Contribution to the National Economic Fund (NEF) of up to USD 100,000 for single investor, plus additional USD 40,000 donation to include spouse of the main applicant.
Family of four including the main applicant, the spouse of the main applicant, and two other dependants: USD 150,000
National Bond: Investment of USD 300,00 in a non-interest-bearing government bond. The investment must be maintained for 5 years, after which the bonds can be redeemed and investor can receive the capital invested back.
Real Estate: Investors can invest a minimum of USD 200,000 in government authorized real estate projects. The real estate process requires a binding process and sale agreement; appointment of escrow agent; an escrow bank account to which the minimum investment amount is to be deposited and an escrow agreement. This investment must be held for a minimum of 5 years from the date the citizenship is granted.
Requirements of the St Lucia Golden Visa Program
Hold a valid passport
Provide KYC documents and proof of funds.
No criminal records or police clearance certificate for all adult applicants
Medical certificate
St Lucia Golden Visa Benefits
One of the lowest cost citizenship by investment programs, with fast processing time.
Right to live, work and study in Saint Lucia.
Visa free travel to approximately 140 countries, including the UK, Hong Kong, Singapore and the Schengen area.
No tax on worldwide income or capital gains tax or inheritance tax
Dual citizenship permitted
No language test or residency requirement
Inclusion of dependent children up to the age of 25 and parent over 65 years.
Application process
Step 1: Initial Inquiry
Schedule a consultation with My Golden Pass
Step 2: Eligibility Assessment
Once you have decided to proceed, the next step is to undergo an eligibility assessment. My Golden Pass conducts pre-application background checks and assessment, which helps determine if you meet the criteria set by the St Lucia government for citizenship by investment. Factors such as background, character, and financial standing will be evaluated during this stage.
Step 3: Choose the Investment Option
St Lucia offers various investment options, such as the National Economic Fund (NEF), real estate investment, or national bond. We can help you choose the option that aligns with your goals, preferences, and budget.
Step 4: Prepare and Submit Application
Compile the necessary documents and complete the application forms. These documents typically include personal information, proof of funds, source of funds, police clearance certificates, medical certificates, and other supporting documentation.
Step 5: Due Diligence and Background Checks
Once your application is submitted, it undergoes a thorough due diligence process conducted by the government of St Lucia. This process involves comprehensive background checks to ensure the integrity of the citizenship program and maintain its reputation. The due diligence process can take few weeks to complete.
Step 6: Investment Payment
Once your application successfully passes the due diligence stage, you will be required to make the necessary investment payment as per your chosen investment option. For example, if you opt for the NEF, you will make the required financial contribution to the fund.
Step 7: Citizenship Approval
After the investment payment is made, and all necessary checks and verifications are completed, the government will review your application and decide regarding your citizenship. If approved, you will receive a letter of approval or a certificate of naturalization, confirming your St. Lucian citizenship.
St Lucia Golden Visa FAQs
Q: What is St Lucia Golden Visa?
St Lucia Golden Visa is in fact a straight citizenship-by-investment program that allows individuals and families to obtain St Lucian citizenship through making a qualifying investment in the country. It offers a pathway to acquiring the benefits of St Lucian citizenship, including visa-free travel and attractive tax incentives.
Q: What are the investment options available for St. Lucia Golden Visa?
Investors can choose from several investment options, such as contribution to the National Economic Fund (NEF), real estate investment, or investment in the National bond of St Lucia. Each option has specific investment requirements and associated benefits, providing flexibility to suit different investor preferences.
Q: Can I include my family members in the St Lucia Golden Visa application?
Yes, the St Lucia Golden Visa program allows for the inclusion of family members, including a spouse, dependent children, and even dependent parents or grandparents, under certain conditions. This allows the entire family to obtain St Lucian citizenship together.
Q: How long does it take to obtain St. Lucia citizenship by investment?
The processing time for St Lucia citizenship applications can vary but typically ranges from four to six months. Factors such as application volume, completion of due diligence, and accuracy of documentation can influence the overall processing time.
Q: What are the benefits of obtaining St Lucia citizenship by investment?
St Lucia citizenship by investment offers several benefits, including visa-free travel to numerous countries, a high standard of living, attractive tax incentives, and access to a range of economic opportunities. It provides individuals and families with increased mobility and the potential for an enhanced lifestyle and global business prospects.